Das
BRussel Tribunal
, eine der aktivisten Initiativen beim
World Tribunal on Iraq
, hat kurz vor Jahresende einen
Appell zur sofortigen Abschaffung der Todesstrafe im Irak
initiiert, der bereits von vielen Personen unterzeichnet wurde, darunter auch von recht prominenten, wie dem ehemal. nicaraguanischen Außenminister und momentanen Präsidenten der UN-Vollversammlung Miguel d'Escoto Brockmann, dem Schriftsteller Eduardo Galeano, der ehem. US-Abgeordenten Cynthia McKinney und Hans von Sponeck. (dt. Übersetzung des Appells s.u.)
Akuter Anlaß des Appells ist die drohende Hinrichtung von 900 Gefangenen noch vor den kommenden, für Anfang März angesagten Parlamentswahlen.
Vor kurzem hat auch die UNO die Ausübung der Todesstrafe im Irak scharf kritisiert. Der Irak steht hier pro Kopf weltweit an der Spitze.
In ihrem jüngsten Bericht zur Menschenrechtssituation im Irak heißt es:
"Besonders bedenklich ist, dass viele Personen aufgrund von Geständnissen verurteilt werden die häufig unter Zwang oder Folter gemacht wurden, während das Recht, nicht gezwungen zu werden, sich selbst zu belasten oder sich schuldig zu bekennen, oft verletzt wird." Solange sich hier nichts ändert "sind die Todesstrafen willkürlich und stehen im Gegensatz zu internationalen Menschenrechtsstandards."
(Resumption of death penalty in Iraq sparks UN concern, UN Bericht, 14.12.2009:
Die Besatzer und der irakische Regierungschef Maliki scheinen die Repression vor den Wahlen noch massiv zu verschärfen. Wie irakische Medien berichteten, starteten sie Anfang des Jahres die größten Massenverhaftungsaktionen seit langem. Betroffen sind die sunnitischen Stadtteile Bagdads und die Städte im mehrheitlich sunnitischen Norden und Westen des Landes. Tausende flohen vor den Angriffen der Besatzungstruppen und den Truppen der Regierung. (
Mass arrests reported in Sunni areas in Iraq
, Azzaman, 4.1.2010)
---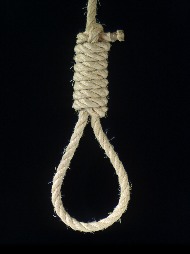 Stoppt die Todestrafe im Irak
Erklärung des BRussells Tribunal vom 12. Dezember 2009
Malikis Wahlprogramm: 900 irakischen Gefangen droht die Hinrichtung im Schnellverfahren
Im Vorfeld der Wahlen schlägt Maliki Hinrichtungen vor, um seine Chancen zu verbessern.
Demokratie im neuen Irak bedeutet Tod und Repression
Das aktuelle Regime im Irak dient der US-Besatzung: es ist die Besatzung die Iraker tötet
Die Repressions- und Todesmaschine geht unvermindert weiter. Der Präsidentenrat des Irak hat, wie berichtet wurde, die Todesurteile von ungefähr 900 Gefangenen, die im Todestrakt dahinsiechen unterzeichnet. 17 von ihnen sind Frauen.
Keiner der Verurteilten hatte ein faires Verfahren. Das irakische Justizwesen wird von zuständigen internationalen Institutionen und allen wesentlichen Menschenrechtsorganisationen als korrupt, im Wesentlichen dysfunktional und mit Sektierertum geschlagen erachtet. Hunderte Anwälte wurden seit 2003 ermordet. Die Assoziation irakischer Anwälte hat öffentlich erklärt, dass sie keinen Zugang zu den Gefangenen hat.
[...]
Irak hat bereits die höchste Hinrichtungsrate der Welt. In einem einzigen Tag im Juni wurden in Bagdad 19 Leute gehängt. Ohne eine weltweite Aktion werden in Kürze 900 weitere gehängt.
Eine Kultur von Terror und Internierung
Terror durch Massenfestnahmen, Folter und Misshandlungen ist eines der Markenzeichen der Besatzung und Maliki. In Ergänzung zu Massenmorden, massenhafter Vertreibung, die Kontamination irakischen Bodens, die Zerstörung der öffentlichen Infrastruktur und der Mittel zum Überleben, werden zehntausende Iraker willkürlich in offiziellen und geheimen Einrichtungen im gesamten Irak festgehalten.
Genaue Zahlen, Alter und Geschlecht der Gefangenen wird von den Behörden zurückgehalten. Die, die Untersuchungen des Missbrauchs anstreben werden bedroht oder ermordet. Im Juni 2009 kündigte Harith Al-Obaidi, Abgeordneter und Kritiker von Menschenrechtsvergehen, im Parlament seinen Plan an, die Vorwürfe über Korruption, Folter und Misshandlungen in irakischen Gefängnissen zu untersuchen. Er wurde am folgenden Tag umgebracht.
Je nach Quelle, variieren die Gefangenzahlen zwischen 44.014 bis ca. 400.000. Zehntausende Familien wissen nichts über das Schicksal eines geliebten, willkürlich verhafteten Mitglieds. Noch nicht mal die die Zahl der Gefängnisse ist bekannt. Das Internationale Rote Kreuz (ICRC), das für den Schutz von Gefangen während eines Konflikts zuständig ist, hat wiederholt geklagt, dass ihm der Zugang zu allen "operativen Gefangeneneinrichtungen ("field operation detention facilities") und Geheimgefängnissen verweigert wird. Amnesty International, der International Federation of Human Rights and sogar der UN-Unterstützungs-Mission im Iraq (UNAMI) … wird der Zugang zu offiziellen Gefangenenlager von der US-Armeeführung verweigert.
Das Rote Kreuz berichtete, dass Geheimdienstoffiziere der US-Besatzungsmacht selbst davon ausgehen, dass 70-90 Prozent der irakischen Gefangenen "irrtümlich" inhaftiert werden. Die meisten werden in umfassenden und willkürlichen Massenverhaftungskampagnen festgenommen. Sie werden für unbestimmte Zeit gefangen gehalten, abgeschnitten von der Außenwelt, ohne Anklage, ohne Besuche von Familien oder Kontakt zu Anwälten. Die wenigen, die formell angeklagt werden, werden auf Basis von Geständnissen beschuldigt, die unter Folter gemacht wurden oder von Zeugenaussagen dubioser Informanten der Besatzer. Niemals wurden handfesten Beweise vorgelegt.
Seit 2003 wurden schätzungsweise 2.400 Kinder von US-Truppen inhaftiert, einige gerademal 10 Jahre alt. Nachdem sie es jahrelang leugnete, hat die Besatzungsmacht jetzt bestätigt, dass auch eine große, aber nicht näher angegebene Anzahl von Frauen gefangen gehalten wird. Viele wurden entführt, um ihre, des " Terrorismus" angeklagten Männer, zu zwingen sich zu ergeben. Oft haben sie ihre Säuglinge und Kinder bei sich im Gefängnis. Mehrere von UN Forschern befragte weibliche Insassen berichteten von Vergewaltigungen und sexuellem Missbrauch, während der Gefangenschaft. Die USA tragen für diese Zustände die hauptsächliche Verantwortung.
Demokratie im neuen Irak: Repression
Tägliche berichten Medien von mehr Verhaftungen und neuen Morden von Personen, die offizielle Uniformen tragen und die Maliki Regierung preist sich für die neuen Wellen der Festnahme. Seit ihrer Amtsübernahme ist alles, was sie erreicht hat, mehr Unterdrückung ihrer Gegner, während die Verbrechen gegen unschuldige Leute nie untersucht und bestraft wurden.
Unter der Besatzung wurde der Irak zum zweitkorruptesten Land der Welt und der Handel von Gefangenen eines lukrativsten Geschäfte von Regierungsmilizen. Die Polizei entführt, hält Gefangene in Geistergefängnissen, verkauft sie und erpresst für Lösegeld von ihren Familien ohne Strafverfolgung befürchten zu müssen.
Jahr für Jahr werden von führenden Menschenrechtsorganisationen in- und außerhalb des Iraks besorgniserregende Berichte veröffentlicht, die auf willkürliche Verhaftungen, Freiheitsberaubungen, Hinrichtung im Schnellverfahren, Missbrauch, Vergewaltigung und Folter von Gefangenen im Irak sowohl durch die Hände der Truppen der Besatzungsmacht, wie auch durch ihre lokale bewaffneten Banden.
[...]
Ein Besatzungsmacht, durch Gewalt und Zerstörung seine Pläne und Interessen einem Volk aufzuzwingen versucht, dessen Recht, Interesse und Identität es ist, zu widerstehen, kann nur zum fortgesetzten Völkermord führen – zur willentlichen Zerstörung des Iraks und des irakischen Volkes als Staat und als Nation.
Aufruf zum weltweiten Handeln
Wir rufen alle auf, aktiv zu werden, um diese Exekutionen zu stoppen und eine Aussetzung der Todesstrafe im Irak durchzusetzen.
Wir fordern die Freilassung aller politischen Gefangenen, die in offiziellen Gefängnissen oder Geistereinrichtungen der USA, der von der USA eingesetzten
irakischen Regierung und der von der US-Besatzung in den Irak gebrachten Milizen gefangene gehalten werden.
Jeder Iraker verdient Schutz und Gerechtigkeit. Die unfairen Prozessen im Irak müssen beendet werden.
Wir fordern den UN Menschenrechtsrat auf, einen speziellen Berichterstatter für die Menschenrechtssituation im Irak zu ernennen.
Wir rufen alle Organisationen, die das erste Menschenrecht – das Recht auf das Leben –verteidigen, sich mit größter Dringlichkeit der Sache der 900 Gefangenen im Todestrakt im Irak anzunehmen.
Wir ersuchen alle Anwaltsvereinigungen auf, gegen das Fehlen von Recht und fairen Prozessen im Irak zu protestieren und die bevorstehenden Exekution dieser 900 Gefangenen für gesetzwidrig zu erklären.
900 getötete Gefangene wären 900 Beleidigungen des allgemeinen Bewusstsein von Menschlichkeit.
Wir rufen alle auf, alles im Rahmen ihrer Möglichkeiten zu tun, den Fall dieser 900 Gefangenen an die Öffentlichkeit zu bringen und die zuständigen Institutionen zu drängen aktiv zu werden.
Die US-amerikanische Besatzung des Irak muss beendet werden. Es ist diese Besatzung, die den ultimativen Strick um den Hals des Irak formt und das ultimative Gefängnis für die irakische Bevölkerung.
Bitte unterzeichnet, verbreitet die Erklärung und werdet aktiv!
Unterzeichnet werden kann die Erklärung unter:
http://www.brusselstribunal.org/DeathPenalty121209.htm
Hier findet man auch eine spanische und eine arabische Übersetzung.
Liste der Unterstützer und Mitwirkenden, u.a.:
Rev. Miguel d'Escoto Brockmann
- Nicaragua, (katholischer Priester, ehemal. Außenminister Nicaraguas und Präsidenten der 63. Sitzung der UN-Vollversammlung)
Prof. Em. François Houtart
- Belgien (Teilnehmer des Russell Tribunal über US-Verbrechen in Vietnam 1967, Direktor des Tricontinental Center (Cetri), geistiger Vater und Mitglied des Internationalen Komitees des Welt Sozial Forums von Porto Alegre, Leiter des Alternative World Forum und Präsident der International League for Rights)
Eduardo Galeano
- Uruguay (Essayist, Journalist, Historiker und Aktivist)
Amb. Saeed Hasan
- Irak (ehem. permanenter Vertreter des Iraks bei der UNO)
Denis Halliday
Irland (ehem. beigeordneter UN-Generalsekretär und Koordinator des humanitären UN-Hilfsprogramms für den Irak 1997-98)
Hans von Sponeck
- Deutschland (ehem. beigeordneter UN-Generalsekretär und Koordinator des humanitären UN-Hilfsprogramms für den Irak, 1998-2000,)
Cynthia McKinney
- USA (ehem. Mitglied des US-Repräsentantenhauses, Präsidentschaftkandidatin der Grünen Partei 2008)
Michel Chossudovsky
- Kanada (Professor für Wirtschaftswissenschaften an der University of Ottawa, Gründer des Centre for Research on Globalisation)
Sabah Al-Mukhtar
- GB (Präsident der Arabischen Anwaltsvereinigung)
Michael Parenti
- USA (Autor )
James Petras
- USA (Autor, Professor Emeritus der Soziologie an der Binghamton University, New York)
Edward S. Herman
- USA (Autor, Professor Emeritus für Finanzen, Wharton School, University of Pennsylvania)
Elmar Altvater
- Berlin (Vizepräsident der Internationalen Lelio Basso Stiftung für die Rechte der Völker)
...
Liste aller Unterzeichner
Siehe auch die
aktuelle Botschaft von Denis Halliday
dazu.